MPR will help you ensure your prescriptions are 100% accurate.
Subscribe to MPR and you'll receive 12 monthly issues complete with:
Concise, up-to-date monographs on over 2,300 commonly prescribed pharmaceuticals and OTC medications
Easy-to-use Indexes that allow quick look-up of drug information, with information on precautions, interactions and adverse drug reactions
News & Developments in drug therapy, as well as a glimpse at potential drug approvals in our Pharmaceutical Pipeline section
Over 100 clinical charts to help you select the correct drug therapy
Fully referenced, up-to-date chemotherapy regimens for more than 30 cancers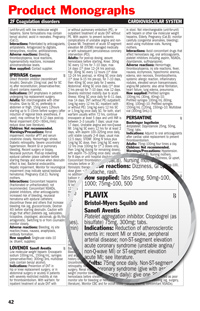 MPR is the logical choice for Physicians who want to have the most reliable and up-to-date source of information when prescribing treatments.
When you activate your paid subscription, you'll receive guaranteed receipt of future issues, so you will always have the latest prescribing information.
Subscribe today. It is easy and takes only a few moments.